If you're looking for creative February social media ideas in 2020 then you've found them. This post is packed with Social Media Holidays for February, with plenty of social video ideas, GIFs and more!
BY DONNA MORITZ | UPDATED 22 JANUARY
Posts on this blog may contain affiliate links, which means we receive a small commission at no cost to you if you purchase through a link.
You'll find popular and international holidays as well as crazy and unusual days of celebration. And there are literally dozens of ideas – updated for 2020!
We have listed social media holidays for each day of the week. And we've also included a list of tools and ideas you can return to at any time for later reference!
What Comes With The February Social Media Ideas?
I've included the following in this post full of February Social Media Ideas:
a quick reference guide to social media holidays for each month. We've added them to a handy infographic!
an overview of February social media ideas. This includes what you can create and how to share them. We focus on ideas for social video but you can use them for any type of static images too!
a list of tools and resources to help you create visuals for Social Media Holidays. Use our Social Media Content Calendar to help you!
Tips for Creating February Content Ahead of Time (in a Snap!)
Creating content can be hard and takes time, but if you schedule ahead and do a few simple things, it makes it much much easier for you.
In fact, with just a few key strategies you can have a month's worth of content created and scheduled out in very little time at all. Here are my tips for doing that, especially when it comes to creating video:
Use a template. There are plenty of templates available on the tools I've recommended below. Use one of them and use it to guide you. Why spend ages creating a cool design, when you are not a designer? Instead, use a design that a designer has already signed off on, and edit the template. Edit just the text or photo or color. Don't go too crazy as then you run the risk of ruining the design (sorry, but it's true and that goes for me too!).
Create in batches. If you are going to get into a creative space that results in you creating one social video (this applies to images too), why not create two videos? or three videos? or 10-20 images? It's much easier to create a bunch of videos in one sitting than to do them all at separate times. You have the tools open and ready to go. Keep going and do another one!
Create short, snappy video for social media – it doesn't have to be an hour long. 15-30 seconds is enough. For more advice about how to create effective 15-second videos, check out this post.
Create some easily consumed content. For example, quotes, tips or observational humour are great for engagement, especially on Facebook where people are just scrolling through content at a rapid pace.
Use GIFs to add some personality. Whether you create your own GIFs (I've added tips below) or you use one of the millions of GIFs in the Giphy library, adding a GIF to a social media post, email or blog post can add humour and personality to the mix.
Quick Guide Infographic to February Social Ideas & Holidays
Here's a quick reference guide to some of the most important February Social Media Holidays so you can share it or save it to Pinterest for later reference:
Want the full 2020 Social Media Holiday Infographic? Click here.
Tips for using this post filled with February Social Media Ideas
Create a social video based around the holiday in question – do a Top 5 list, a how-to video, behind the scenes of your business (related to that holiday), a tutorial, or a quote video. Get creative! Is it Pizza Day? Do a video about Pizza Fun Facts! Use a video tool like Wave to help you.
Create a fun GIF that reflects the holiday in question. Or share a GIF, direct from Giphy
Create an image-based around the holiday – a quote, meme, saying, tip, photo or image that reflects the celebration day or image with text overlay.
This post focuses on social video, GIFs and animations but you'll see images in these posts too. You are only limited by your imagination!
I've included more tools and tips below for creating February content. Let's dive in!
February Social Media Ideas and Holidays – Calendar Days
I've included at least one "day" or holiday for every day in February list of social media ideas and holidays. I've also included hashtags, tools, tips and resources for creating visual content in 2020. This post will be updated annually to check dates. We'll also add content as we create or discover it. So keep it bookmarked to refer back to!
1. Change Your Password Day – #ChangeYourPasswordDay. We all need a reminder to update our passwords, right?
2. Groundhog Day – #GroundhogDay. Today is a good day to share a movie clip from the movie Groundhog Day, a quote or maybe a Fun Fact about what Groundhog day actually is!
And guess what? It's also Super Bowl Sunday! #Superbow #SuperbowlSunday. Share content around the Super Bowl and whatever you are doing to catch the football for Superbowl LIV
3. National Football Hangover Day – #NationalFootballHangoverDay. Do we need to say why this is a day after the Superbowl?
4. World Cancer Day #WorldCancerDay
5. National Chocolate Fondue Day #ChocolateFondueDay in case you need some chocolate. And if you need more chocolate, it's also World Nutella Day.
6. National Frozen Yoghurt Day – #FrozenYoghurtDay. If you love The Good Place on NBC – like me – then you'll appreciate this GIF: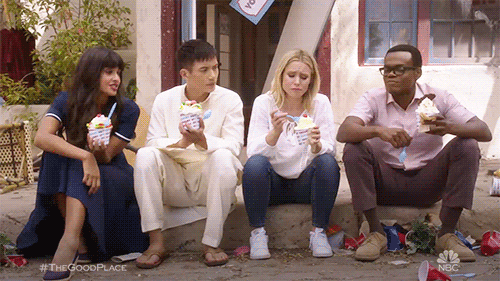 7. National Send a Card to a Friend Day – #SendACardToAFriendDay. Send a physical card to a friend. Or if you want to send something immediate, try a GIF:
GIF by Socially Sorted (check out more on my Giphy Brand Channel here, and feel free to share!).
It's also Wear Red Day (US).
8. National Boy Scouts Day – #BoyScoutsDay and World Whale Day.
9. National Pizza Day – #NationalPizzaDay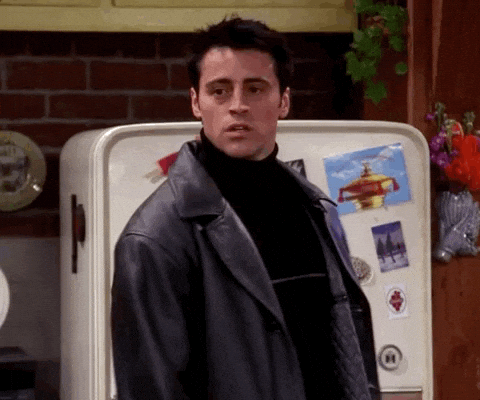 It's also the 92nd Annual Academy Awards today.
10. National Cream Cheese Brownie Day – #CreamCheeseBrownies
11. Get Out Your Guitar Day and Inventors Day #InventorsDay
12. International Darwin Day (Charles Darwin) #InternationalDarwinDay #DarwinDay.
13. National Tortellini Day #TortelliniDay
14. Valentine's Day #ValentinesDay
What list of February Social Media Ideas would be complete without Valentine's Day, right? Create a video like this one!
To make this video I searched on video templates in Wave.video to find a Valentine's Day themed template to create the video. Share it on Facebook or create one yourself in Wave.
15. Singles Awareness Day #SinglesAwarenessDay
16. Tim Tam Day #TimTamDay in Australia
Not sure what a Tim Tam is? Check out this video that my friends at J29 Creative made after I sent them a gift of some Aussie treats!
17. Random Acts of Kindness Day #KindnessDay. Find out more at this website.
18. National Drink Wine Day #DrinkWineDay. Search for a fun #wine GIF in Giphy:
Wine drinking by Lorraine Nam
19. National Chocolate Mint Day #ChocolateMintDay
20. Love your Pet Day #LoveYourPetDay
21. International Mother Language Day #IMLD
Whatever your language skills, take the time to highlight other languages and mother languages today. It's a day to ask your audience to share what their 1st language is or maybe thank them in another language!
GIF by Socially Sorted (check out more on my Giphy Brand Channel here, and feel free to share!).
22. National Margarita Day #NationalMargaritaDay
It looks like Hallmark Cards has branched out and now makes GIFs for us to share!
23. World Understanding and Peace Day #WorldUnderstandingAnd PeaceDay
24. World Bartender Day #WorldBartenderDay. Share your favourite drink mix!
25. National Chocolate-Covered Nuts Day #ChocolateCoveredNuts
26. National Pistachio Day #PistachioDay
27. National Retro Day #RetroDay and National Toast day (the humble toasted bread) #NationalToastDay. Its also National Chili Day (4th Thursday in February). Note: Chilli is spelled as "Chilli" in British English.
Want to use this template? Find out more about this template and Retro Day here on Wave's Monthly Content Calendar.
28. Floral Design Day – #FloralDesignDay & International Stand up to Bullying Day (also celebrated on 3rd February in November)
29. Leap Day! It's a leap year in 2020! Use the hashtags #LeapYear and #LeapDay
February Social Media Ideas and Holidays – Calendar Week/Months
Here's a quick list of February month-long holidays to dive into to find week-long social media ideas:
National Hearth Month
National Time Management Month
Creative Romance Month
National Black History Month
Cherry Month
National Library Lover's Month
Snack Food Month
National Grapefruit Month
Library Lover's Month
National Weddings Month
Video and Animation Tools for Creating Video Content
Here's a couple of quick and easy tools list for you to find Video content ideas to create videos or GIFs quickly and easily for your social media channels.
1. Wave.Video
Wave is is my go-to video tool for creating easy-to-share social video. The thing I love about Wave is their template library, huge library of image and video assets (included in your monthly membership), moveable text and the ability to add stickers to your content.
And they have a massive audio library with easy editing tools too. I could go on and on. Check out the review I wrote here. Here's a video walkthrough of Wave and some of the features:
2. Giphy
Giphy is the best source online for finding GIFs to share from their GIF library. Simply go to their website and search on the hashtags that you want to find GIFs for. Get creative with your hashtag combinations and you'll find all sorts of gems! I also have a branded Giphy Channel and will be sharing my GIFs in these monthly posts so you'll find some fun ones in there to share too.
Hot Tip: You can also access any of the Giphy creations from Twitter, Facebook or Instagram Stories! Simply use the Giphy/GIF search and enter in the hashtag you want to use. Because I have a Giphy Channel if you enter in #SociallySorted on Instagram Stories you can find all of my GIF Stickers too!
Want more Calendar Ideas?
You can see my full list of Social Media Holidays in this post:
Over to You
Do you schedule your content ahead? What are your Favourite February Social Media holidays and have we missed any?
The following two tabs change content below.
Donna is a Visual Content Strategist and founder of Socially Sorted, listed by Forbes as a "Top 5 Social Media Blog You Need to Know About in 2019". Donna helps brands leverage the power of visual storytelling and content strategy in their business. Her content has been featured in publications such as Forbes and Entrepreneur Online and she is a contributor to Social Media Examiner. Donna speaks about digital and visual content for the marketing and tourism industries internationally.
Latest posts by Donna Moritz (see all)