If you're searching for Black Friday Software Deals for Marketers in 2019 – you're in the right place. And Cyber Monday too!
Each year, these offers are announced over a week or so around Thanksgiving, and I've rounded up some of my favourites to share with you. Get ready to save!
BY DONNA MORITZ | NOVEMBER 27th, 2019
Posts on this blog may contain affiliate links, which means we receive a small commission at no cost to you, if you purchase through a link.
I must admit, I haven't always been a huge fan of Black Friday or Cyber Monday. It's a very "US" thing, and to most Australians, it has been a foreign concept until recently. Until Amazon and all the online things!
We do have crazy, frenzied sales in Australia. Hello Boxing Day Sales, I'm looking at you.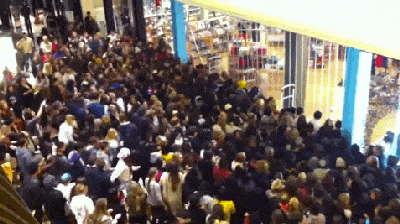 But we're still catching up a bit, in terms of online shopping.
My introduction to Black Friday has been as a marketer over the past few years. I needed to buy/use software to streamline and automate various parts of my business – and much of it was expensive. As an Australian, buying US-based software can become expensive, especially with our exchange rate. So, I learned to watch out for deals and specials online. Enter Black Friday.
Now, you may ask, what is Black Friday vs Cyber Monday? It's probably not that important. One seems to run into the other these days. But, if you're looking for a definition, then here is one for you:
Black Friday is generally focused on newer, big-ticket items and there's an in-store shopping focus as well. There's loads of online shopping to be had as well.
Cyber Monday was started as a way to promote tech deals and smaller items. Usually, it relates to online sales, but the offers merge into offline too.
Basically the two types of sales put together lets everyone shop and grab deals over a longer period. Think of it as the start of Christmas shopping.
Enough said about all that. Let's jump in and share some Black Friday (and Cyber Monday deals for you). I have 9 for you, but I'll add any that I forget, so it could end up being more.
With one caveat: These are tools and companies and partners that I love. I love the tool or software, have used it or recommend it to my audience. I'm not dragging in any old deals I can get my hands on. These are my go-to software and tool companies that have offered deals for the holiday season.
Black Friday Software Deals to Love!
Ready? Let's do this:
1. Wave.video – Video Software
My favourite social video tool, Wave.video has recently announced some pretty wild updates that are coming soon. Wave already has an easy-to-use editor, a huge library of stock footage in the millions, great templates and editing features that any novice can use.
Wave.video is rolling out loads of features from December. These will change the game for video creators, including hosting, video funnels, clickable videos and more. From December the earliest features will start rolling out to users. This includes:
Host videos and repurpose them easily
embed videos on any webpage or blog directly from Wave.video
Share ad-free videos via direct links
Create video landing pages
Suffice to say, if you can grab a deal on Wave, now is the time to do it.
Wave's Black Friday Software Deals:
Wave is offering plans at significantly reduced prices, and the best part is that once you're locked in, you remain at the discounted price range when the prices go up.
Use this link to buy Wave + use the following codes at checkout for the plan you choose. It's over 50% discount on all plans, as follows:
1st Year of Creator Plan at 50% off – $49 USD for the first year (usually $99). Use the coupon WCA_DMBlack.
1st Year of the Pro Plan at 62% off – $150 USD for the first year (usually $396). Use the coupon WPA_DMBF150.
Agency Plan at $60 USD per month (usually $79) – Use the coupon WBA_DMBF60.
This offer (and coupons) expires on December 4th. Note that Creator and Pro Pricing is for the 1st year.
PS Wave 4.0 will be rolled out from December in stages, so join as an Insider at the top of this blog so I can bring you updates as an Insider.
2. Depositphotos – Stock Photos
AppSumo are again offering their famous DepositPhotos deal and there's no better time to snaffle up quality stock photos at super low prices.
Depositphotos has a library of over 100+ million royalty-free stock photos and vector images. I use them a lot on my blog! The best part is that you can use Depositphotos images for all your commercial projects, online and print.
This is the best deal you'll get on Depositphotos all year (most of my community keep an ear to the ground for this one. It's hugely popular!).
DepositPhotos Black Friday Software Deal:
Grab the App Sumo Deal for Depositphotos here.
Note: You'll get 100 quality stock photos for $49 USD. Images can be downloaded at any time. You can also double up and get two or three deals (for 200 or 300 photos).
3. Flywheel Website Hosting
Flywheel is my website host and I love Flywheel. For hosting, it's not cheap. But it is one of the most reliable – especially with fully managed, WordPress-optimized hosting. If you have WordPress sites, be sure to check out Flywheel. They also have features like free SSL certificates. I won't harp on about website hosting, but if you're looking for a solid option, then check out their offer.
Flywheel's Black Friday Software Deal:
From now until December 4th, Flywheel is offering:
40% off new, annual starter Plans.
25% off new, annual Freelance and Agency plans.
25% off new, annual Add-ons and subscriptions (white label, plugin updates, and/or performance insights).
Use this link and use the code FLYDAY19 at checkout to access the Black Friday deals.
4. Short Pixel (Image Compression Plugin)
Got Images on your website? You need Shortpixel! This is a great Plugin that I use on my site to reduce the size (but not quality) of my images.
Basically, ShortPixel improves your website performance by reducing the image size. It results in smaller images that are no different in quality from the original.
In numerical and technical terms, it equates to up to 90% compression rate, and supports JPG, PNG, GIF, PDF and WebP files. Say goodbye to big images and say hello to batching image optimization super fast websites and better search rankings.
Short Pixel's Black Friday Software Deal
Note that this deal goes live from 00:00:00 New York Time (GMT-5) on 29th November, 2019 and finishes at 23:59:59 on 2nd December, 2019. Check that you purchase in this window of time.
Use this link to purchase Short Pixel and get 250% more credits added to your account. For example, if you buy 10,000 credits for $9.99 on the one-time plan, you'll receive 25,000 credits.
I have the Lifetime One-Time Quota of 10,000 images and the monthly quota of 5,000 images and it's plenty enough for this site.
5. Interact (Website Quiz Tool)
You may have noticed that Quizzes are the Business when it comes to creating leads, segmenting your audience and driving traffic to your website. Interact is a tool that lets you create your own lead generation quiz (yes, even those Buzzfeed style "What is your Spirit Animal" type quizzes).
I'm having fun playing with it for a project and some of my community are loving it too. So I wanted to share it with you:
Interact's Black Friday Deal (extended to Cyber Monday)
Please note that this new deal replaces the Cyber Monday deal:
Use this link to buy Interact and get a 40% off all new annual plans or upgrades to an annual plan. Use the code CYBERQUIZ at checkout or when upgrading.
This offer is only valid Monday, December 2, 2019 starting at 4:00am GMT and expires at 11:59pm GMT.

6. Podia (Online Courses & Memberships)
I recently discovered a course-building platform called Podia and I can't tell you how much I am loving their features, pricing and functionality.
Basically Podia is an all-in-one course creation platform, membership platform and platform for selling things. Or, as they describe it: Everything you need to sell courses, downloads, and memberships without worrying about the tech.
And the pricing is sweet:
Mover Plan: $39 USD per month for unlimited online courses, your own storefront and landing pages, digital downloads, email marketing, messaging (new) and zero transaction fees. Plus their support is great!
Shaker Plan: $79 USD per month includes everything in Shaker, plus Membership features, Blog, embedded checkout, affiliate marketing, third party code and FREE migrations of your current courses.
I love that there is an awesome set of features on their lowest plan. I have had a custom-built membership site for a while but I have been wanting to move to a service like this. Podia might just give me that nudge.
It's simple, slick, and I love that they are always adding awesome features. Podia recently added Built-in Live Chat Messaging that rivals expensive tools like Intercom (say, WHAT?). Yessiree. They did that. And they didn't charge for it or restrict it to the higher plan. It's included on all plans.
Podia's Black Friday Software Deal
Use this link to access Podia's Offer. They are giving 15% off ANY plan for life if you sign up before the end of Cyber Monday.
7. Thinkific (Online Courses)
This deal has expired.
An alternative to Podia is Thinkific, and I know that some of my community have been looking to get started with this software. Now would be a good time ….while they have their annual Black Friday Deal running. And it's a good one!
Thinkific Black Friday Deals:
Thinkific is offering 7 months of their Pro + Growth Plan, plus over $2100 worth of bonuses – even a microphone! It's a total of $2,803 in value.
Get access to the Black Friday offer on this link – and see what's included in the bundle! The offer expires at Midnight Pacific time on 29th November, 2019.
8. HeySummit (Summit Software)
This deal has expired.
Thinking of running a Summit? Recently I participated in a cool summit that was run entirely on a software called HeySummit. It was a great experience as a presenter and user (I watched a lot of sessions too).
HeySummit is well-priced to begin with. But when you add in their Black Friday offer, it's awesome!
HeySummit Black Friday Deals
HeySummit is offering 30% off for LIFE on any Plan.
Get the HeySummit Black Friday offer HERE.
9. Attend Social Media Marketing World (& Save)
While not strictly a Black Friday Deal, the best time to get a ticket to Social Media Marketing World 2020 is right now! Prices are now rising steadily until the event so if you grab your ticket now you can still save over $600 on the All-Access Pass.
Grab your ticket to attend in person.
If you can't make it live, then opt for a Virtual Ticket and watch it in your PJs.
Or find out more on this post:
and already I've already forgotten deals so here are a few extras!
Bonus Black Friday Deals
10. Brand24 – Listening Tool
From individuals with a personal brand, to small businesses to large companies, it's never been more important to listen to what people are saying about your brand. Brand24 is your tool for that!
I consider Brand24 to be – hands down – the most robust listening tool there is. I've been using it for years to listen and respond to mentions as well as to check mentions for clients and brand partners. With Brand24 you can:
Protect your brand reputation
Improve your customer service
Monitor hashtag performance
Generate new leads
Reach potential clients.
Become an industry leader by monitoring your competitors
Brand24 gives you instant access to brand mentions across social, news, blogs, videos, forums, reviews and more. Now they are making it even more affordable on Black Friday. Check this out.
Brand 24s Black Friday Deal:
Brand 24 are offering 50% off any plan for up to 3 months. No coupon code required. Just use this link and grab the offer!
It's valid from 29th November to 2nd December (just make sure you sign up in that period).
11. Splasheo – Videos
Although not strictly a Black Friday deal (and also not strictly software) I am adding this special deal here too because it's an awesome one.
Splasheo is a service for turning your videos into captioned, letterbox videos, (complete with fixed heading and captions). It's real people doing the editing (hence why it's not strictly software) and it's all kinds of awesome.
Splasheo's Offer for Socially Sorted:
Get your first 4 videos free (on me) when you use this link. Yes, that's right 4 videos, done for you (by real humans) at no obligation. It works like this:
You take advantage of the 7 Day FREE trial on the Growth Plan and get access to all of the templates for captioning and framing your videos. There's no restriction. You can create up to 4 videos of up to 5 minutes long each ($99+ value).
After 7 days, if you wish to continue, you'll pay only $99/month to keep using the service. Just keep creating videos as long as you keep getting great results with them!
There's NO risk to start or stay on the plan whatsoever. Try it and see if you like it. You're free to cancel at any time. I know the CEO of Splasheo, Gideon. He's pretty nice like that.
12. SmarterQueue
A late addition but a good one. SmarterQueue has a Black Friday offer for all new trial signups. Smarterqueue is a great tool for queueing your content and never running out of things to post!
SmarterQueue's Black Friday Software Deals:
SmarterQueue is offering the following 2019 Black Friday Deals for new trial signups:
40% off annual plans for LIFE.
30% off monthly plans for 6 months.
There's no promo code required. Just use this link to sign up for a trial before Cyber Monday on SmarterQueue and you'll be eligible!
13. Animoto
Another of my favorite video tools is having a Black Friday/Cyber Monday deal too!
SmarterQueue's Black Friday Software Deals:
Animoto is offering 35% off all annual plans!
Use this link and add the code BLACKFRIDAY.
This offer runs through to the end of the day on 4th December.
Phew! That's a lot of Black Friday Savings!
Tell me, are you a fan of Black Friday (buying all the things) or do you avoid it and refuse to buy anything at all, staying away from the crowds, online and off?
The following two tabs change content below.
Donna is a Visual Content Strategist and founder of Socially Sorted, listed by Forbes as a "Top 5 Social Media Blog You Need to Know About in 2019". Donna helps brands leverage the power of visual storytelling and content strategy in their business. Her content has been featured in publications such as Forbes and Entrepreneur Online and she is a contributor to Social Media Examiner. Donna speaks about digital and visual content for the marketing and tourism industries internationally.
Latest posts by Donna Moritz (see all)